The electric automotive world might have a new silent sheriff. Let us take a closer look at the new car that is branded with a star as a logo, which is not a Mercedes-Benz EQ.
Let me introduce to you the brand. Polestar is a brand we should be watching out for. Polestar is the performance brand of Volvo Car Group. Both have their headquarters in the beautiful city of Gotheburg on the west side of Sweden. According to Google Maps Goethebug and Stockholm are 469km apart. Maybe this is why the new model from Polestar has a range of 470km on a single charge. Polestar is positioned right in the middle of the trendy electric automotive market. It is an electric performance brand, focused on un-compromised car design and technology.
Eye-catching is the clear lines inside and outside, the Scandinavian design is always something very special. According to dictionary.com Polestar [pohl-stahr] stands for three things 1. Polaris, 2. Something that serves as a guiding principle. 3. Something that is the center of attention or attraction. To be honest, when I look at the Polestar brand and its models I can feel the meaning behind it already without the help of the dictionary. Well done, but did we really expect something else from our smart Swedish friends?!
While the Polestar 1 is a plug-in hybrid with quite a heavy price tag, the Polestar 2, launching in August 2020, is a rather affordable electric car with sporty ambitions. Polestar 2 is exclusively distributed digitally. Consulting and test drives are possible in the so-called Polestar Spaces. Some spaces have already opened in China, Europe, and North America; the first Polestar Space in Germany will open in August.
The electric four-wheel drive Polestar 2 has an output of 300 kW (408 hp), enabling it to reach 100 km/h in 4.7 seconds. A 78 kWh battery integrated into the vehicle floor provides a range of 470 kilometers per the WLTP standard and it needs 8 hours to fully charge the battery with an 11kW home box.
Also, Infotainment shows how simple touchscreen menu navigation can be. Large clear displays, clever and intuitive menu navigation. Anyone who can operate a smartphone will have no problems with the Polestar 2.
For more details take a look at this great and comprehensive review from carwow.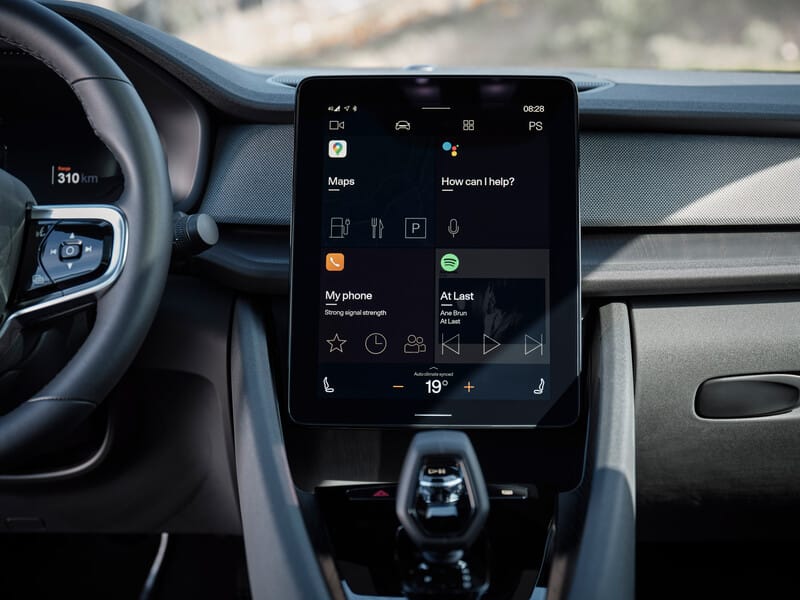 For more details take a look at this great and comprehensive review from carwow.
Since we are all about sustainability. I would assume that Polestar is not different. Thomas Ingenlath, Polestar CEO says that "It's clear that to be truly sustainable we have to evaluate every element that goes into our cars. For Polestar, sustainability is not just about the electric powertrain. With the development of these innovative new solutions that we will introduce in our future cars we make a strong statement of our intentions."
According to Polestar, they focus also on innovation such as Bcomp's that is suppose to wins a lot of points on the sustainability rating. Bcomp's is natural fiber composite solutions that reduce plastic content, cut weight, and could improve crash behavior for interior panels. It's great and sounds good for the moment, I am not sure if this is enough for an internal brand that wants to reduce the carbon footprint. I would appreciate a more impactful approach doing good for the green planet e.g. developing batteries that don't need those rare-earth components. Okay, but let's give them a bit more time to solve also this issue – step by step.
After reading this, could you see yourself exploring the world in a Polestar 2? If so, why not book a test drive.
And if you would like to get inspiration for what to wear while being an explorer when driving a Polestar 2, check out the great posts about Design and Techwear.